Dr. Ashwini Oswal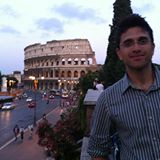 Dr. Ashwini Oswal
Academic Clinical Lecturer in Neurology
Ash is currently an Academic Clinical Lecturer in Neurology at the University of Oxford, where he divides his time between clinical work and research. He studied medicine at the University of Cambridge and University College London, before undertaking an Academic Clinical Fellowship and subsequently a D.Phil. in Oxford.
He is broadly interested in understanding how neural activity, as measured through neurophysiological techniques (including MEG, EEG and LFPs), informs about function and communication within large-scale brain networks. Furthermore, taking the viewpoint that network dysfunction is at the heart of many neurological diseases, he is keen to delineate archetypal network patterns of specific disease symptoms - this is in the hope that an improved classification of common neurological conditions will in the future lead to improvements in diagnosis and treatment.
In previous work, Ash has used simultaneous MEG and LFP recordings to investigate how Deep Brain Stimulation (DBS) may influence brain networks in Parkinson's disease, leading to an improvement in symptoms. He is presently investigating how the replay of neural activity influences decision making in various neurological conditions.