Unit Training and Careers Development Event 2022
Unit Training and Careers Development Event 2022
Unit Training and Careers Development Event 2022
Image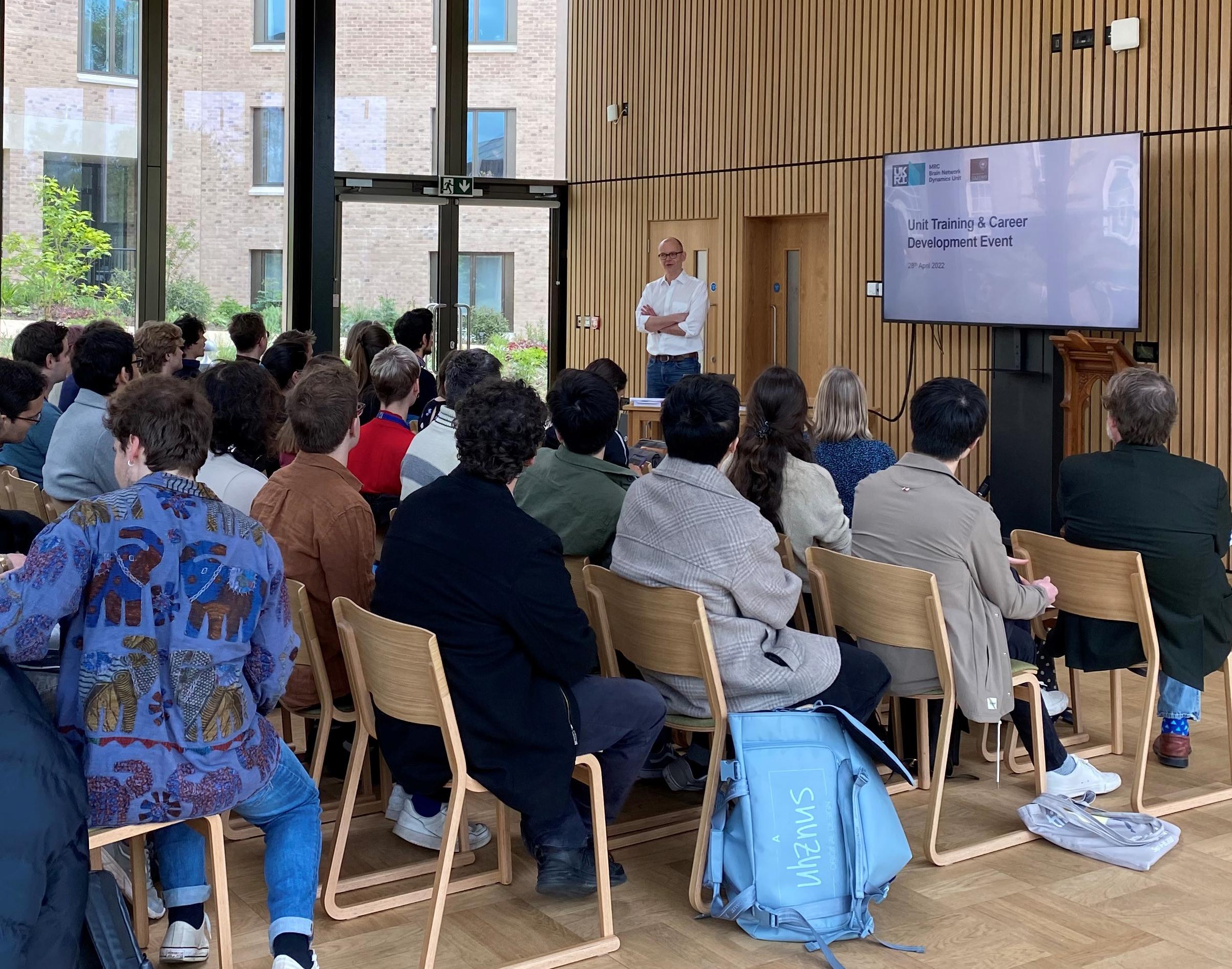 ×
×
The Unit held its seventh annual Training & Careers Development Event on Thursday 28th April.
Unit Interim Director Professor Peter Magill started the Event by updating Unit members on key elements of the UKRI's new Open Access Policy. This was followed by an insightful presentation from Professor Ester Hammond, Director of the Oxford-MRC Doctoral Training Programme, in which she gave some well-received advice on supervising and coaching students (and staff). Unit Group Leader Professor Tim Denison then gave an engaging and informative talk on "SMART goal setting" in the context of science and engineering, drawing on examples from both academia and industry. The General Session ended with Unit Group Leader Professor Charlotte Stagg highlighting the opportunities afforded by the Unit's bespoke Mentoring Scheme for Postdoctoral Researchers.
In the first of two subsequent break-out workshops, Dr. Cassandra Gould van Praag, Open Science Community Engagement Co-ordinator, Wellcome Centre for Integrative Neuroimaging, led an interactive discussion of the whys, whens, and hows of best practice in Open Data. In the second workshop, Deirdre Newman and Eliza Tinson of the NDCN professional services team offered some valuable guidance on the practicalities (and common pitfalls) of research grant management, all with a view to maximising the benefits of funding.
The Event was held at St. Hilda's College, Oxford, and was the first Unit-wide gathering held in person since before the start of the Covid pandemic.
Professor Charlie Stagg, Chair of the Unit's Training & Career Development Committee, commented "Specialised training and career support is a strategic priority for the MRC BNDU, and it was hugely important to us to come together in person to deliver this event. Special thanks to our guest speakers, who generously shared their expertise and experience for the benefit of Unit members. We look forward to putting their great advice into practice."