Science outreach at St. Nicholas' Primary School
Science outreach at St. Nicholas' Primary School
Science outreach at St. Nicholas' Primary School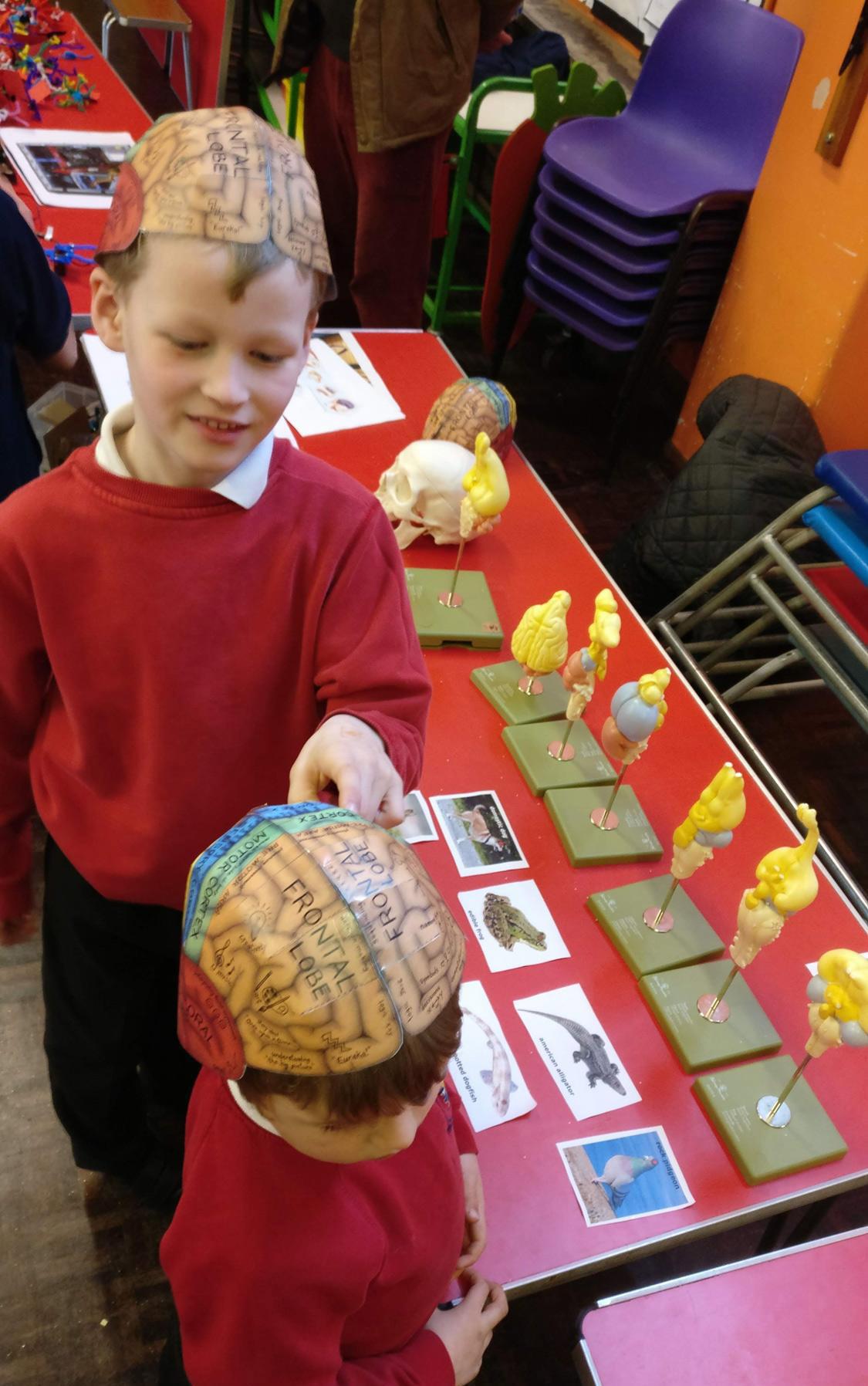 A team of Unit scientists - led by Research Support Manager Ben Micklem - recently visited a local primary school, St. Nicholas' in Marston, as part of the Unit's continuing support of British Science Week and International Brain Awareness Week.
On Wednesday 13th March, Flavie Torrecillos and Ben ran sessions for the two Reception classes. The sessions began with the 4- and 5-year-old pupils being guided through their exploration of a range of plastic models of vertebrate brains. The children were then shown the human brain model, and with a pupil volunteering to wear a 'brain hat' to illustrate the locations of different functional areas. Flavie and Ben then ran a live experiment to test whether the signals in Ben's muscles really were electrical, by using electrodes on the surface of his arm. The children were delighted to see that the tensing of muscles caused the robot claw to open 'on demand'.
On Wednesday afternoon, Guy Yona and Ben visited the two Year 3 classes. They delivered interactive sessions designed to teach the 7- and 8-year-old pupils about how a computer's hard drive stores information. The children were given decommissioned hard drives to open up, and were guided through their examination of the platters as well as the arm with its read/write heads. This was then compared to the ways the brain stores information. The children were also taught about the different parts of brain cells, including their 'listening' dendrites and 'talking' axons. At the end of the sessions, the children were helped to make their own model brain cells using colourful pipe cleaners.
On the afternoon of Friday 15th, Kouichi Nakamura and Ben ran a stall at the school's Science Fair. The Unit's collection of vertebrate brain models was on display, and pupils were challenged to match the photos of animals with their model brains. The robot claw, controlled by electrodes applied to the arm, was a big attraction, with queues of children wanting a turn. The opened hard drives, and pipe cleaner brain cells, were also on display, and children from all years of the school came to the stall and learned about information storage in computers vs. brains.