Unit and in2scienceUK to bring pioneering work placements to Oxford
Unit and in2scienceUK to bring pioneering work placements to Oxford
Unit and in2scienceUK to bring pioneering work placements to Oxford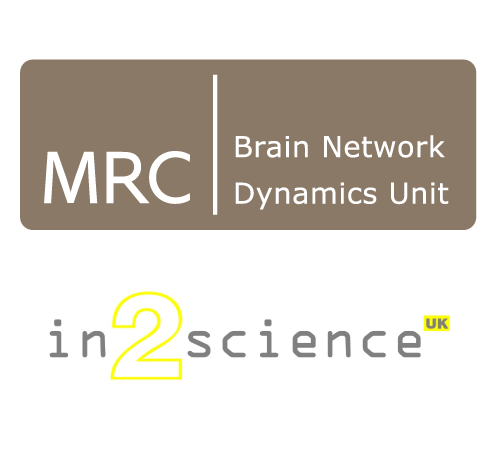 ×
We are pleased to announce that the MRC Brain Network Dynamics Unit is partnering with in2scienceUK to launch a unique programme for local school pupils to support their progress into university degrees and careers in science, technology, engineering and mathematics (STEM).
in2scienceUK is an award-winning charity that inspires and supports secondary-school pupils from disadvantaged socioeconomic backgrounds by giving them opportunities to work alongside scientists, and to receive the advice and information they need to successfully progress to university and STEM careers. Since its foundation in 2010, in2scienceUK has worked in and around central London to empower hundreds of young people to realise their ambitions in education and working in the STEM sector.
As part of the inaugural pilot scheme to begin this August, the Unit will host 5 pupils from state-funded schools across the city of Oxford with catchments that include students from low-income backgrounds. During their time in the Unit, the pupils will receive personalised mentoring from Unit scientists, and will be given opportunities to gain a wide variety of practical experiences as well as exposure to key concepts and challenges in neuroscience and medical research. In a series of integrated workshops with in2scienceUK, the pupils will also receive guidance on university applications, wider information about STEM careers, and training in transferable skills.
Unit Deputy Director Professor Peter Magill commented "We are delighted to be working with in2scienceUK to bring their innovative work placement scheme to Oxford for the first time. The focus on local pupils who would benefit most from these special opportunities is a great fit to our flourishing Outreach Programme, and we look forward to playing our part in increasing the experiences and prospects of our mentees."
Dr Rebecca McKelvey, Founder and Director of in2scienceUK, commented "We are really excited to be working with MRC BNDU members who are bringing their knowledge and expertise to support and inspire local students from low-income backgrounds to become the next generation of scientists."
The progress and activities of our in2scienceUK placement students can be followed on our Twitter account.